Deb Webber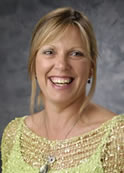 Deb Webber is an Australian psychic and medium, well-known for her television appearances and magazine columns.
Based in Tewantin, Queensland, Webber operates a business running seminars, workshops and private readings.
Webber's credibility was hurt badly when a 2004 Channel 7 hidden camera trial found that she failed to get anything at all right in three separate psychic readings on different subjects. Webber provided extensive details about the subjects' families which was comprehensively incorrect. Webber defended herself by suggesting that the spirits must have been lying to her. As critics point out, even if this were true, it would still mean her readings have no value.